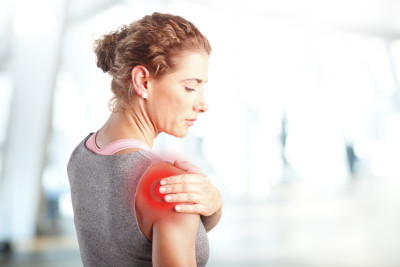 Shoulder pain encompasses a diverse array of problems and is estimated to affect up to 16 to 34 percent of the general population, depending on age and risk factors.  What most people call the shoulder is really several joints that combine with tendons and muscles to allow a wide range of motion in the arm — from scratching your back to throwing the perfect pitch.
Mobility has its price, however. It may lead to increasing problems with instability or impingement of the soft tissue or bony structures in your shoulder, resulting in pain. You may feel pain only when you move your shoulder, or all of the time. The pain may be temporary or it may continue and require medical diagnosis and treatment.
Let's take a look at some of the common causes of shoulder pain, as well as some specialized physical therapy treatment options. Your therapist can give you more detailed information about your shoulder pain during your initial evaluation.
Anatomy
This simplified illustration of the shoulder highlights the major components of the joint.
Your shoulder is made up of three bones: your upper arm bone (humerus), your shoulder blade (scapula), and your collarbone (clavicle).
The head of your upper arm bone fits into a rounded socket in your shoulder blade. This socket is called the glenoid. A combination of muscles and tendons keeps your arm bone centered in your shoulder socket. These tissues are called the rotator cuff. They cover the head of your upper arm bone and attach it to your shoulder blade.
Causes
Most shoulder problems fall into four major categories:
Rotator cuff tendon inflammation (bursitis or tendinitis) or tendon tear
Instability
Arthritis
Frozen Shoulder
Rotator Cuff Pain
Rotator cuff problems are the most common source of shoulder pain, accounting for more than two-thirds of cases.  Rotator cuff disorders are associated with musculoskeletal problems that affect the joints and muscles of the shoulder, cuff degeneration due to aging and ischemia, and overloading of the shoulder.
Instability
Shoulder instability means that the shoulder joint is too loose and is able to slide around too much in the socket. In some cases, the unstable shoulder actually slips out of the socket. If the shoulder slips completely out of the socket, it has become dislocated. If not treated, instability can lead to arthritis of the shoulder joint.
Shoulder Arthritis
In 2011, more than 50 million people in the United States reported that they had been diagnosed with some form of arthritis, according to the National Health Interview Survey. Simply defined, arthritis is inflammation of one or more of your joints. In a diseased shoulder, inflammation causes pain and stiffness.
Although there is no cure for arthritis of the shoulder, Physical Therapy is a common treatment option. Using our specialized form of physiotherapy, most people with shoulder arthritis are able to manage pain and stay active.
Frozen Shoulder
Frozen shoulder (adhesive capsulitis) accounts for 2 percent of cases of shoulder pain.  Risk factors for frozen shoulder include female gender, older age, shoulder trauma and surgery, diabetes mellitus, and cardiovascular, cerebrovascular, and thyroid disease.
Physical Therapy
Australian Physiotherapy's specialized manual therapy has been clinically proven to improve shoulder range of motion and decrease pain.  Moreover, many randomized control trial research articles have proven that when you combine well delivered manual therapy with therapeutic exercise you require less visits to meet your goals compared to therapeutic exercise alone.
Our principle therapist is a Board Certified Orthopedic Specialist in physical therapy and a post graduate physical therapy instructor of manual therapy for shoulder pain.  During his 80+ physical therapy seminars that he has taught across the country, Mr. Burnette has performed over 150 live manual therapy demonstrations on the correct application of manual therapy to improve shoulder function.  Most patients will begin to report relief in as few as 1-3 visits!
Let our expert care get you back in action.  If you are in pain we can help!
Shoulder Pain information on Youtube