Australian Physiotherapy Specialists– Advanced Spine and Orthopedic Physical Therapy
Jacksonville's premiere specialty physical therapy center for the treatment of orthopedic, spine, and sports related injuries.  Our physical therapy center specializes in the treatment of cervical headaches, dizziness and imbalance, back and pelvic pain, and arm and leg injuries.
Our clinic practices what is now known as the Maitland-Australian Concept.  This concept is based on the teachings of Geoffrey Maitland and other researchers and clinicians who have contributed to this philosophy of treatment.
The approach we use in our Jacksonville office was pioneered in the 1950's by the legendary Australian Physiotherapist Geoffrey Maitland, and has continued to evolve over the years.  Geoffrey Maitland was a physical therapy visionary and innovator for more than four decades.  He was a pioneer in the use of hands on manual therapy techniques for pain modulation.  His models for practice and his descriptions of examination and treatment techniques are still used as methodological standards by manual therapy researchers.
This concept of assessment and treatment for spinal and extremity conditions is recognized worldwide as an efficient, safe and gentle way to alleviate pain, restore movement, and maximize function in orthopedic patients.  Our principal physical therapist is a national instructor of Geoffrey Maitland's teachings.
MEET THE STAFF
Marrow Burnette, PT, MSPT, OCS, COMT
Principal Therapist/Owner
Marrow received his MSPT from the University of North Florida in 2001 and became a Certified Orthopedic Manual Therapist (COMT) in 2005 through Maitland Australian Physiotherapy Seminars (MAPS).  He became an Orthopedic Certified Specialist (OCS) in 2006 through the American Physical Therapy Association (APTA).   The OCS Board Certification is granted by the American Physical Therapy Association (APTA)'s American Board of Physical Therapy Specialists (ABPTS) and involves rigorous application and examination processes. Roughly 6.5% of the physical therapists in the United States are Board Certified in a specialty, and only 3.9% of therapists in the United States are Orthopedic Clinical Specialists.
Marrow has been an active faculty member for MAPS since 2005 and has taught over 90+ post graduate physical therapy courses nationwide on topics such as manual therapy, orthopedic examination techniques, spinal and extremity stabilization exercise, geriatric manual therapy, and sacroilliac joint disorders.  He has trained over 1500 physical therapists since becoming an instructor of physical therapy continuing education.
Marrow has been a guest speaker at three national symposiums speaking on the topics of assessment and treatment of sacroilliac joint disorders and Vertigo (Washington, DC 2010, Chicago, IL 2011, Riverhead, New York 2016), and has participated in evidence based research that was published in the physical therapy journal Manual Therapy in 2012.  He has also contributed to the writing of multiple post graduate physical therapy manuals that are currently being taught across the country.  Marrow has practiced physical therapy in Jacksonville, FL for 15+ years specializing in the management of spine and musculoskeletal disorders.  He enjoys spending time with his wife and three children.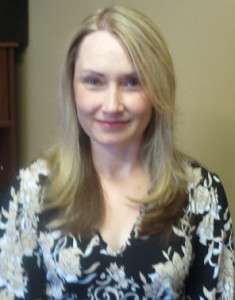 Christine Burnette, Director of Operations/Owner
Christine received a BA in Advertising from Michigan State University in 1996.  Throughout the years, she has successfully held positions in the cable television, salon/spa, active adult community, and real estate industries with a focus on advertising/marketing and office management.  She has a passion for helping others and enjoys spending time with her family.
Tiffany King, Front Desk Coordinator
Tiffany has over 13 years of experience working behind the front desk at several different medical practices.  Her expertise in insurance verification and scheduling has made her a great asset to our team.